The 2019 2 for Seder Pilot
in 2019, the 2 for Seder Pilot was held to help individuals across the country answer the question "How do I fight anti-Semitism?"
Thousands participated in almost 1,000 Seders during Passover 2019.  There were bridges built with Love and Matzah impacting thousands across almost every state and province.  This map shows where you built bridges across two countries. Our Seders included Community Seders (with more than two participants) as well as home Seders.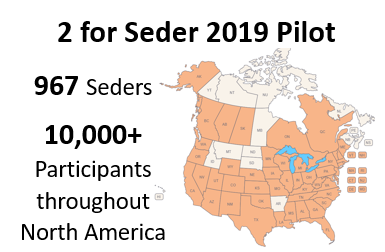 The Biggest Seder
 In Florida, forty-two friends and family gathered at our home in Tampa. Of our group 12 were new to the Seder experience, inspired by 2 for Seder. We began with the 2 for Seder Kit – with a reading of Marnie Fienberg's letter, following it with Rabbi Myers' letter. My niece was connected to Tree of Life and I was born in Pittsburgh. Thank you for giving us a way to connect with our larger community.   – Tampa, Florida 
We co-hosted a relatively traditional Seder with close friends who aren't Jewish, but want to be part of a Seder. Other non-Jewish guests are also attending, one of which has never before attended a Seder. Three of the participants are also blind. I wanted to incorporate thoughts on how each of us can address a clear increase of antisemitism in our country and worldwide. Thank you for your e-mailed materials and suggestions.
The Coolest (Coldest?) Seder
"Passover at Everest Base Camp at 17,565 ft. Our 2 for Seder includes Pasang Temba Sherpa, Ben Rookstool and Ann Cohen. Here we are chanting after the 4 questions."
A Healing Pittsburgh Seder
2nd night of Passover at Donielle Stile Morgenstern & Aaron Morgenstern's house in Squirrel Hill, Pittsburgh. Our table was filled with a diverse group but a common thread was woven throughout and that thread was the importance of community. Here are a few examples of how the people at this Passover table contribute to their communities.
The Baslan Family (lower right) are local Pittsburgh Muslims who make great efforts to support refugees living in Pittsburgh by helping them obtain jobs, furniture, clothes…etc.
Peyton Klein (2nd to Upper Right) is an Allderdice junior who founded Global Minds: a for-youth by-youth organization that inspires students to form social bonds, intercultural friendships, and to consider global issues through youth led extracurricular activities. Global Minds originated when Peyton noticed how there was a division among American students and refugee students due to the language and cultural barriers and therefore she decided to break those barriers.