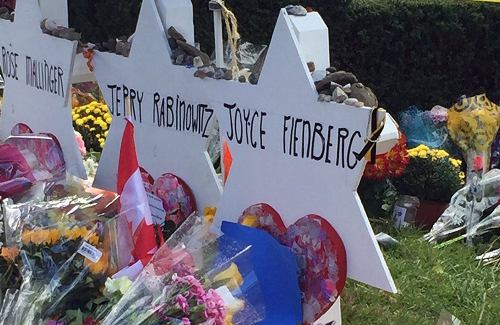 The memorial built around the Tree of Life Synagogue in 2018 for the 11 Jews who were murdered for praying as Jews. 
What is 2 for Seder?
2 for Seder asks any Jew who is holding a Seder to invite 2 people of a different faith to join for their first Seder.  In this way, each individual takes a small, powerful step to fight back against the hate (and indifference) that causes antisemitism.
Our Motivation
Hate crimes are rising across America. According to the FBI, more than half of the religion-based hate crimes are directed against Jews and Jewish institution.  When Joyce Fienberg, mother-in-law of our founder, was murdered for praying as a Jew at the Tree of Life synagogue in Pittsburgh, PA on October 27, 2018, this hate came to our doorstep.
This act of hate was answered with love and support from Americans and Canadians from all walks of life and faiths. We had many discussions with our new friends about how violence was unacceptable against ANYONE and we need to act in this moment of solidarity to build bridges to last through future challenges.
We're Not Helpless
In the face of ongoing antisemitism, you may feel helpless, like there's nothing an individual can do.  2 for Seder was created to support everyone who wants to make a direct, personal impact and stave off antisemitism in their corner of the world.
2 for Seder Addresses Ignorance at the Grassroots Level
How can we fight as individuals anti-Semitism?  Many programs today are focused on the  tracking, education and suppression of hateful speech and acts.  2 for Seder complements these programs with a wide, grassroots effort focused on addressing apathy with authentic Jewish experiences.
Interfaith experiences, as shown by the Interfaith Youth Core (IFYC), directly impact these attitudes.  Direct, positive participation in any new religious experience, impacts the individual in a profound manner.  The new experience creates/deepens relationships and builds direct, firsthand knowledge.  In turn, this improves attitudes, not only toward the individual but the entire religion.  IFYC reports this impact is generally seen as an attitude improvement of 20-30%.  That's for a single experience.  Now picture this repeated across the United States and Canada for more than 50,000 individuals each year. 
Providing just one authentic, Jewish experience each year at Passover builds a strong foundation.  
This is the impact you and I can have  – fighting hate with love (and matzah).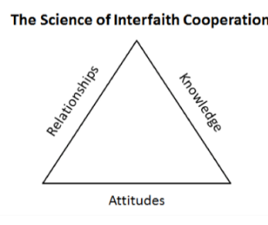 In her book "Antisemitism" Deborah Lipstadt conducts a discussion with a professor who is not Jewish. "We [Jews] cherish people like you who have stood by our side not out of pity or guilt, but because hatred in all its forms is something you cannot abide and because you recognize antisemitism is a threat to the well-being of any just and democratic society." 
2 for Seder is an immediate step we can take together. Simply invite two people who have never attended a Seder to your Seder at home. For me, Seder is the heart of who we are as Jews. It's replete with a miracle-filled structured journey, the chaos of people questioning and debating, and topped off with so much delicious food that you wish you were wearing sweatpants. Opening your Seder to newcomers directly addresses biased attitudes and general ignorance – the seed of all anti-semitism. Start a dialogue and create a ripple-effect to enrich our shared American and Canadian experience.
Your First Seder?
If you are participating in a Seder for the first time, hold onto your seat! You will be a seamless part of that wonderful structure and chaos. Your participation helps all guests relive the wonder of the Seder for the first time, seeing our journey anew. Your participation is a true insight into the soul of Judaism and your participation will help us all see that soul in a fresh, wonderful light. Your participation honors all of us. Did I mention the sweatpants?
A Message for Hosts
As for me, I hosted Seder for the past 12 years with Joyce. It took years for us to become a seamless team, holding a Seder for 20-25 people each year. 2 for Seder is held in honor of her memory. If you can participate, as Host or Guest, know that you are connected to Pittsburgh through bonds of love and matzah. Raise a glass to all our fallen and never forget.
—Marnie Fienberg, 2 for Seder Founder