2 for Seder is held in Honor of Joyce Fienberg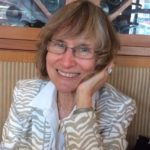 2 for Seder is held in memory of my mother-in-law Joyce Fienberg, who was one of 11 murdered at the Tree of Life in Pittsburgh, PA on October 27, 2018.  Her generosity and openness meant new people, including hers and her husband's American and international students and co-workers were regularly a dynamic part of our family's holiday meals.  Friendship and family ties were the most important thing to Joyce.  She was a true Woman of Valor. 
2 for Seder and the openness it represents are part of her legacy.
Who We Are
2 for Seder is created by Pittsburgh Idea Evolutions (PIE), an emerging non-profit based on the idea that every American and Canadian Jew can and should be involved in pushing back against anti-semitism. 
It's our right as citizens and our honor to do our best to protect the next generation and our neighbors from hate.
Pittsburgh Idea Evolutions is founded by Marnie Fienberg and Lauren Kline. Marnie is the daughter-in-law of Joyce Fienberg.