The Continuing Need for 2 for Seder
By Cindy Goodman-Leib, 2 for Seder Board Member in Squirrel Hill, Pittsburgh, PA
When confronted with the enormous challenges in the world, we can look around and feel helpless, not sure what we can do. This is especially true with anti-Semitism. While there is so much nowadays that we can't do anything about, we can be inspired and nurtured by our stories and traditions. During Passover, we retell, relive, and remember our story, of our experience from enslavement to freedom. We do this so we remember and carry it with us into the future.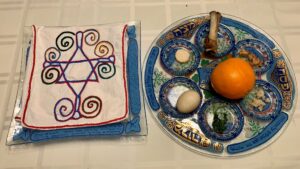 Our annual moment of re-telling, of remembering, always gives us an opportunity to add to it so it is relevant in our times. Rather than feel helpless in fighting anti-Semitism, we can do what we can, in very powerful and meaningful ways. 2 for Seder is one of those ways, with roots in our tradition and in healing from the worst anti-Semitic attack in North America. We can take very meaningful action, draw from our Jewish tradition, welcome the stranger into our tent, and share our Passover story with them. We change the world through our relationships that are nurtured at our table as we come together.
On behalf of the 2 for Seder Board, I want to thank everyone who participated this year.  We knew that this empowering program would be remembered, even after all we've been through with COVID.
Please share with us your experiences and your ideas about the future.
Family is Forever
By Shari Boyett, 2 for Seder Board Member in Northern Virginia
During Passover 2022, 2 for Seder once again provided a meaningful way for Jewish families across the United States and Canada to share the joy and sacredness of the holiday.  Families had 2 for Seder kits available for use to help prepare and implement a special Seder; one certain to be remembered for years to come.
It's never too late to take the 2 for Seder initiative and reach out to someone of a different faith.  You can bring meaning and joy to your life and to the lives of others, any time of the year.  Share a good cup of tea, a meal, or simply taking a walk and discuss Passover and/or many other Jewish traditions and holidays.  Together, we will be back stronger than ever in 2023!
Be a part of the 2 for Seder family and add 2 for Seder to your Seder traditions every year.  Together we'll push back against antisemitism and towards peace!
The Lifeline of 2 for Seder
By Jana Asher, 2 for Seder Board Member, just outside Pittsburgh
I am a Jewish woman in an area that is predominantly Christian, in rural Western Pennsylvania. Recently there has been a spate of Christian associations formed at the university at which I work – so much so that a student felt that there needed to be some type of organization created to support students on campus that are not Christian. We formed an interfaith club but quickly found that most of us were Jewish. Several students had been proselytized to in the previous weeks by one group or another. Some had been involved in a discussion with students that were infuriated that the campus dining facilities were open on Easter.  Misunderstanding of what Judaism is runs rampant in the community. I've even had a student insist the Holocaust is a hoax.
I became a member of the Board of Directors of 2 for Seder because it is a lifeline for Jewish people that are not embedded in a warm, supportive community for multiple reasons. First, it is a place of hope. 2 for Seder focuses on building bridges and informing others about what Judaism is an isn't, removing the mystery and suspicion. Second, it is a source of community. The blog is a lifeline of Jewish support and thought, and the friends I have made through 2 for Seder are an inspiration to me. Finally, it is a opportunity for action: 2 for Seder provides a tangible way for me to push back against hatred and know that others are doing the same.
Our founder, Marnie Fienberg, has been keeping 2 for Seder going for several years now without pay, and every year we have a shoestring budget. Please consider making a monthly commitment to support this important work.