Resources for Virtual Seders
2 for Seder in 2021 may be virtual or in-person, depending on your personal vaccine status and local regulations.  Scroll down to see tips and suggestions and make this special Seder engaging, fun and meaningful!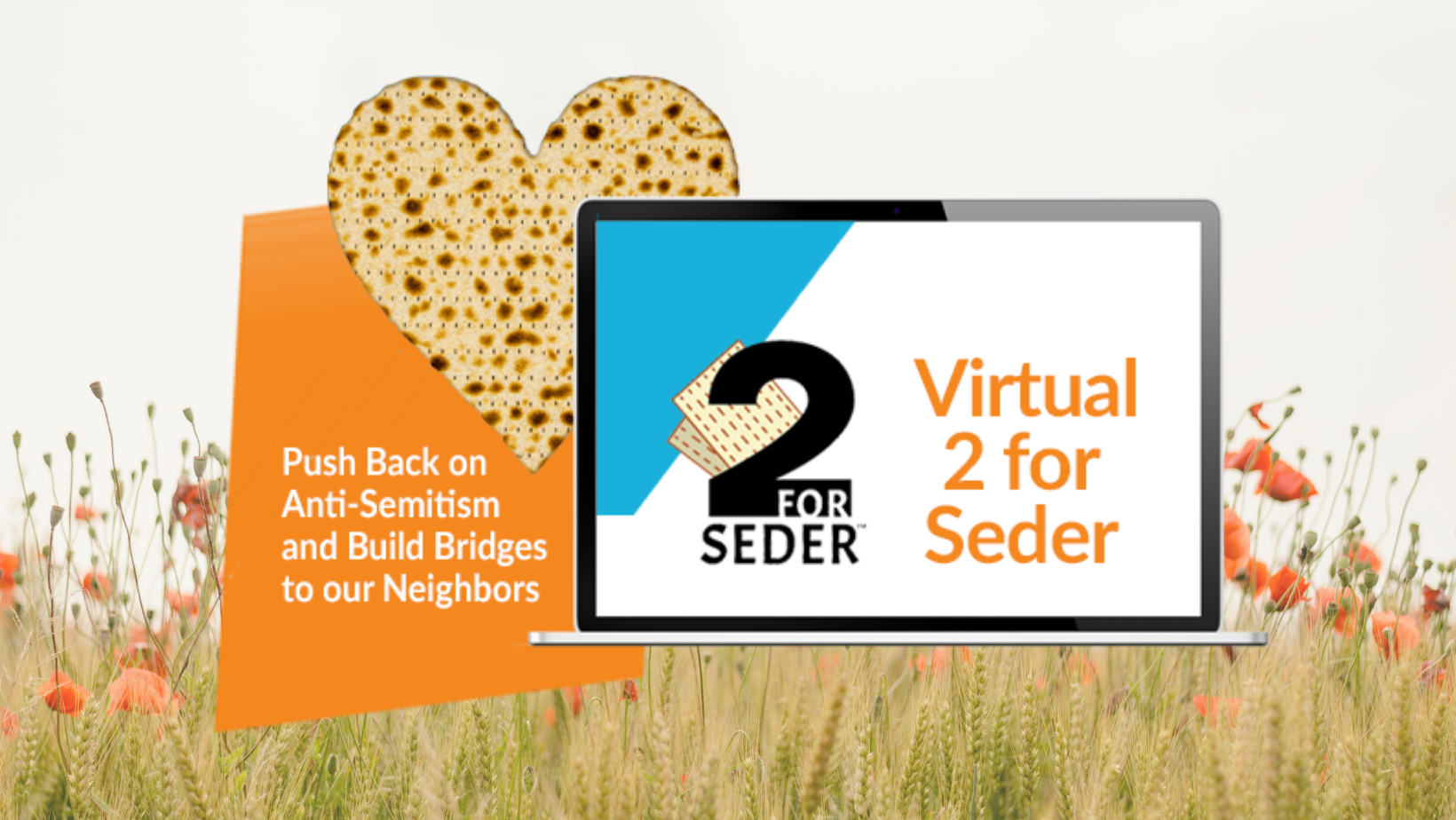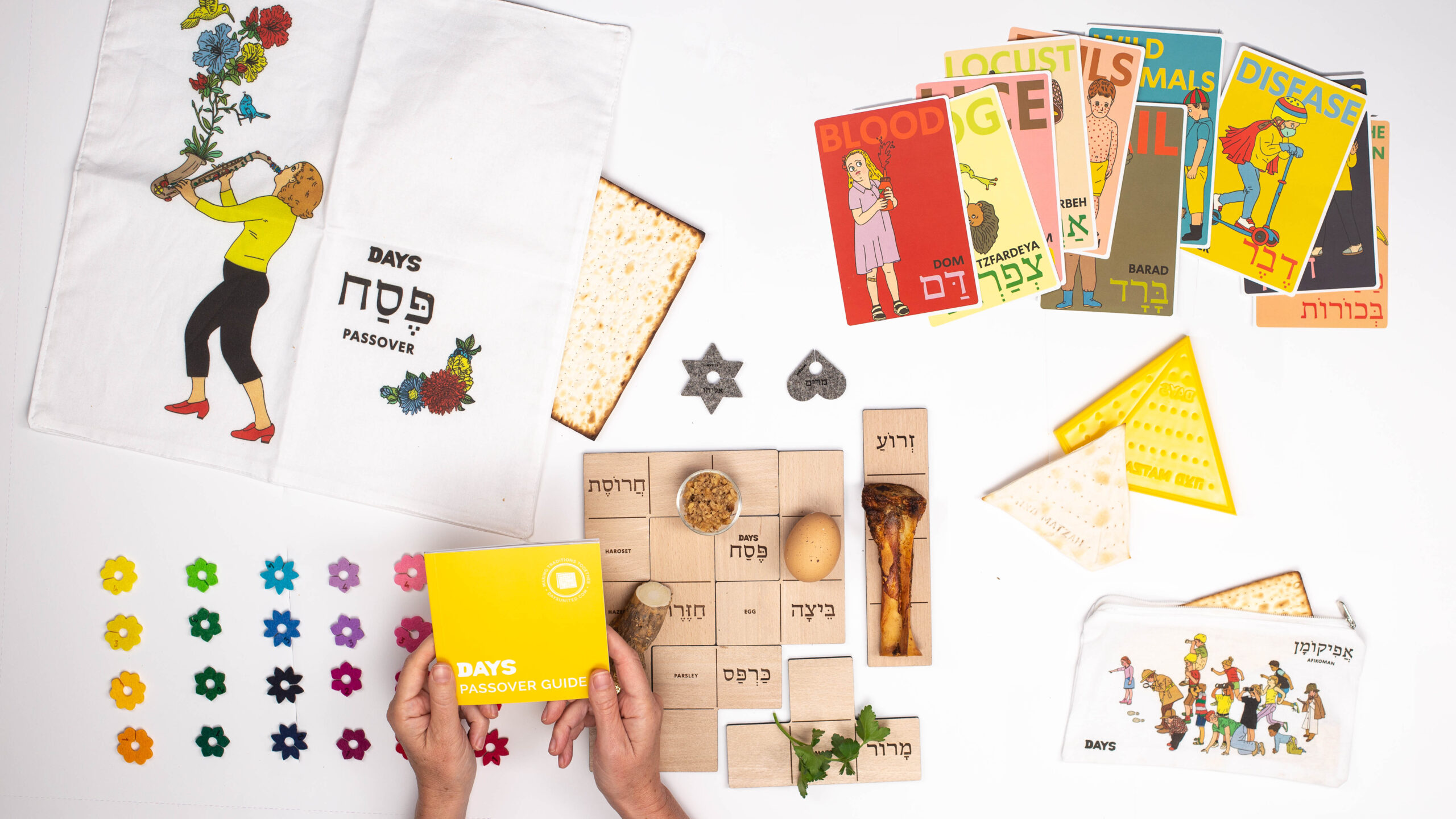 Passover in a Box
2 for Seder is partnering with Days United to bring you an engaging box filled with crafts, recipes and activities for all ages.
Perfect gift for friends and family who would normally be joining you in person and for your 2 for Seder Guest! 
Thank you for your Support!
 Please help us continue with a donation to 2 for Seder – and help us build community for a long time!
Virtual Seder Tip #1
If you are hosting the Virtual Seder, think of yourself as the Director of your own interactive TV show!
Virtual Seder Tip #2
Plan a mixture of visuals and ways to participate.   
Virtual Seder Tip #3
Have a point of contact at each house.  Your little team will make things fun and help share the work. 
Discussion Cards
Add to your Seder with these discussion starters.  Pick one card to use for each Seder
Suggested instructions: Download a card to your computer before your virtual Seder.  Share your screen so everyone can see the question and discuss.  Recommended during or after the meal to "bring everyone back" to the second part of the Seder.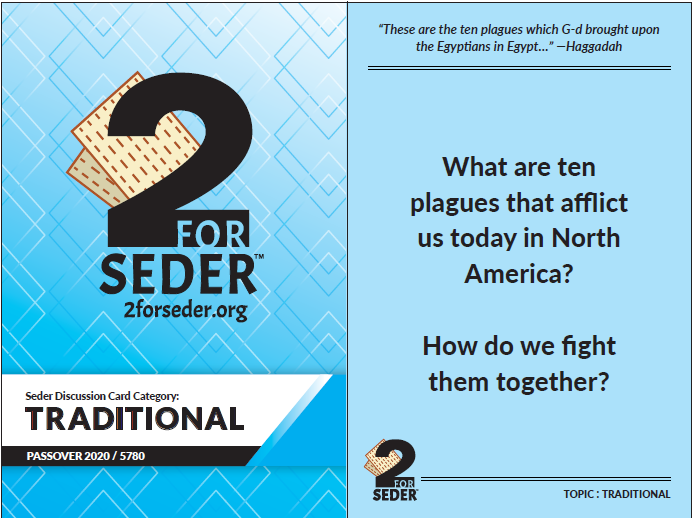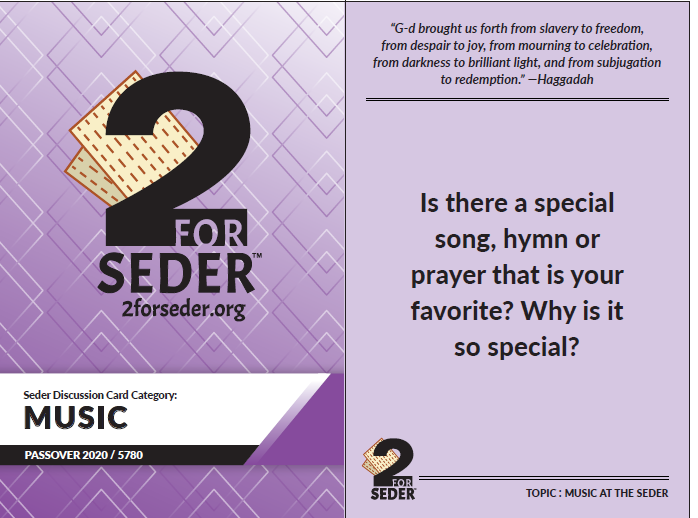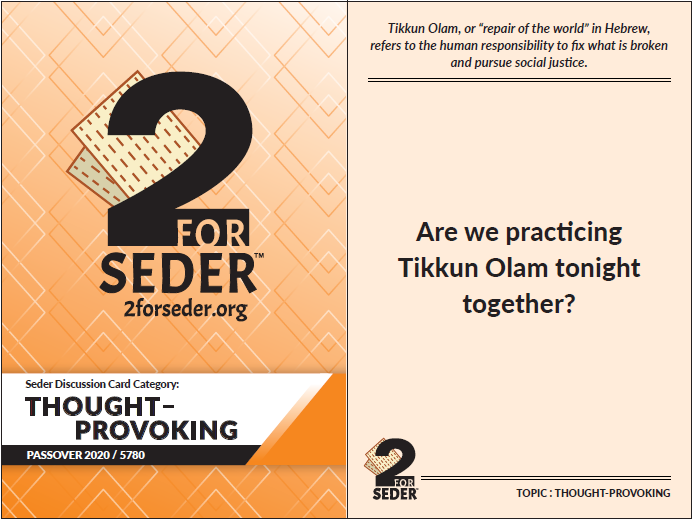 Virtual Seder Tip #4
Let the younger children guide you back to the wonder of Seder – see it through their eyes.
Virtual Seder Tip #5
For teens, create a  social  activity they "own"  and it will be the highlight of the evening.
Virtual Seder Tip #6
Ask seniors to tell a story about a past Seder – to remind us about being together.
Virtual Seder Tip #7
If you have more than three homes connecting, we recommend using a simple script to make sure everything goes smoothly.  Download a sample script template here. 
The 4 Questions in 5 Languages
The Four Questions in Five Languages is reprinted with permission from "300 Ways to Ask the Four Questions." This book is the result of a 40-year project to translate the Ma Nishtana into the  anguages of the world, expressing that the Seder's underlying message of freedom from oppression should be inclusive of all cultures. Books (signed by the author) are available from  WhyIsThisNight.com and includes a CD and DVD.
Copy an image and use as a screen shot or send to your particpants.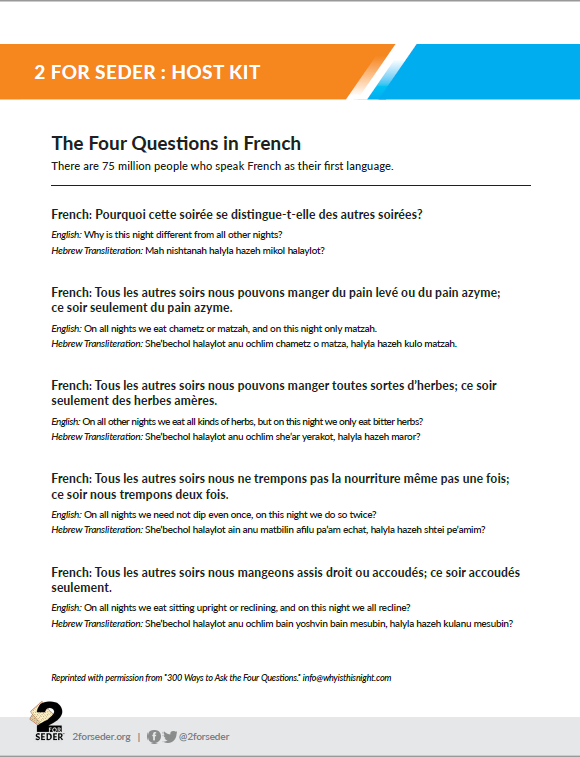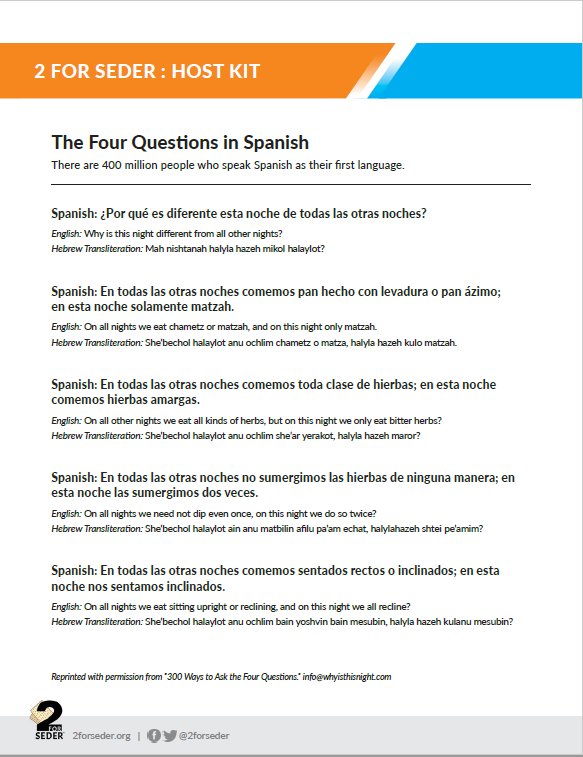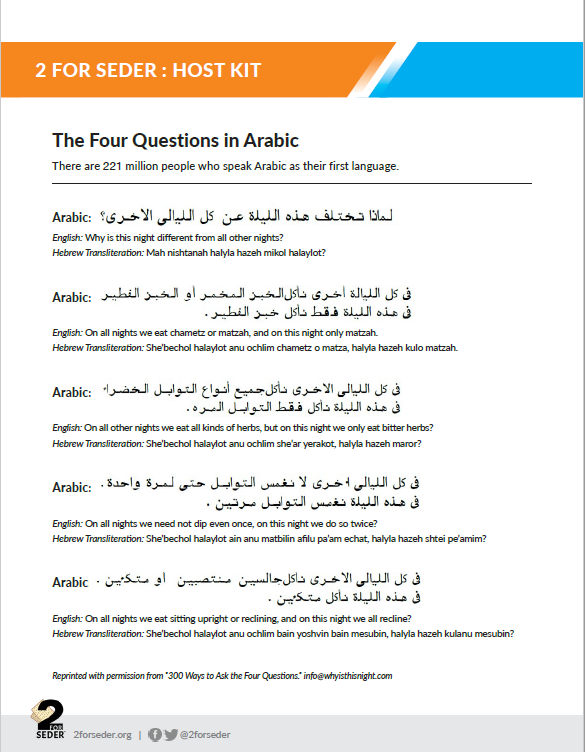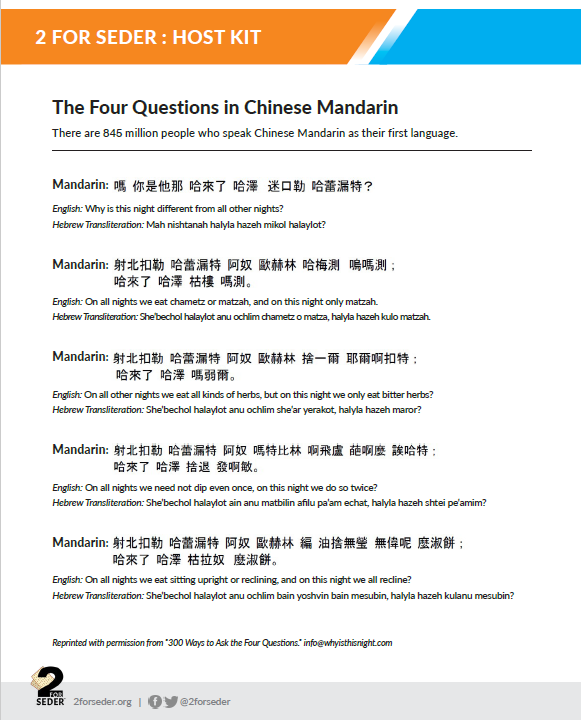 Find the Afikomen!
Looking for something to help you find the afikomen virtually?  Tzvia Rubens a third year rabbinical student at Hebrew Union College-Jewish Institute of Religion and her fellow student Caroline Sim submitted this graphic to us. When it's time to look for the afikomen, pop this "where's waldo" style image on the screen.
Thank you Tzvia and Caroline!!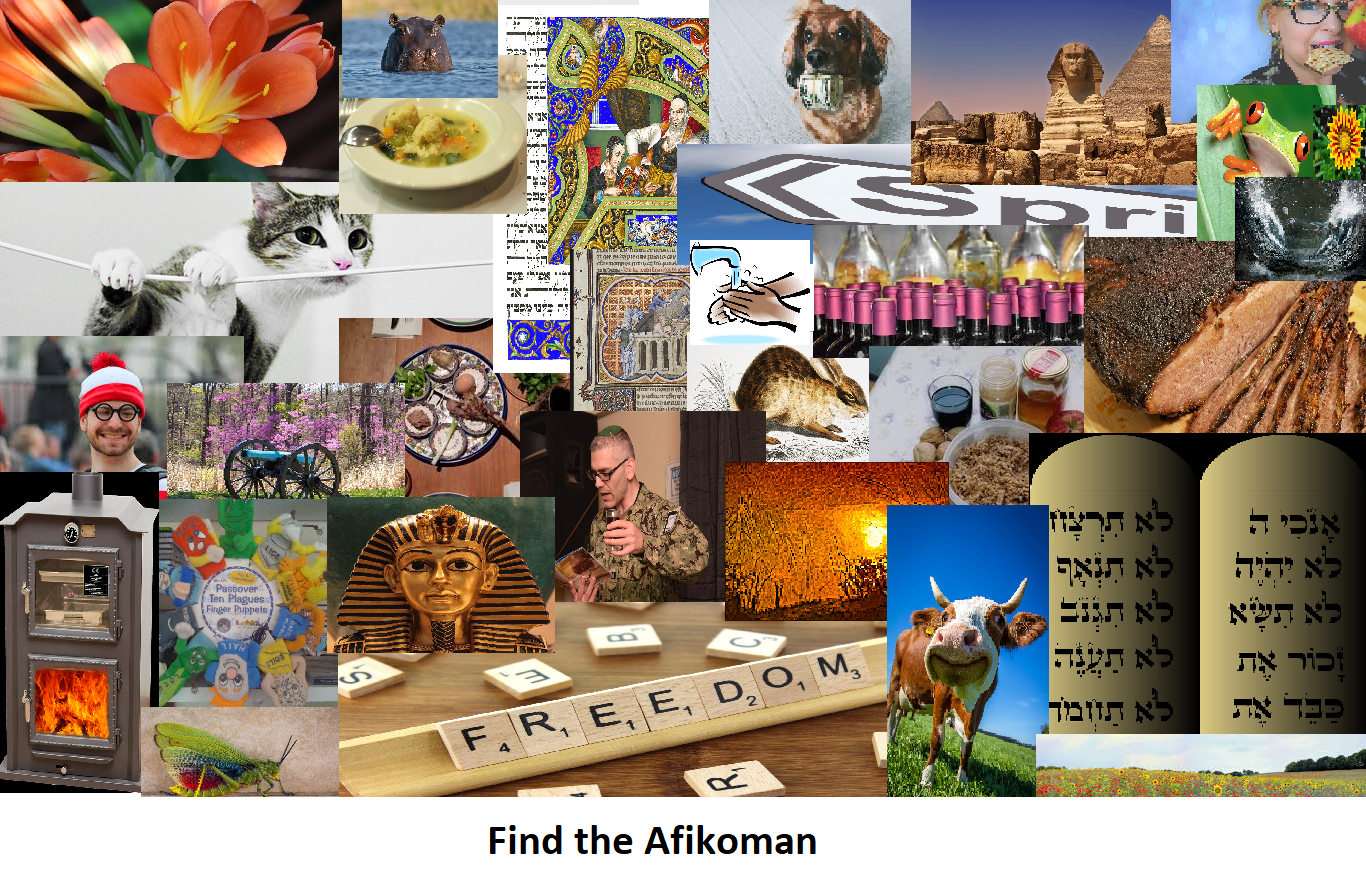 Moroccan-style Haroset
These are guidelines, not requirements.  Adjust as you see fit.
2 cups pecan pieces (or use walnut)
1 cup blanched almonds (or sliced)
25 pitted dates (+/- depending on size)
10 figs (calimyrna or mission)
½ cup dried cranberries (definitely not Moroccan)
20 dried apricots
10 large pitted prunes
½ cup shelled pistachios
¼ cup +/- sweet red wine – e.g. Manischewitz
ground cinnamon
Grind the nuts and dried fruit in a food grinder or food processor.  Add enough wine to make a smooth, malleable paste.  Form into ¾ – 1 inch balls.  Roll in cinnamon to coat.
Store in tightly covered container in refrigerator.  Serve at room temperature.  Eat them like truffles.
Push Back Against Hate All Year Long!
Passover isn't the only time we can build bridges to our neighbors.  Our weekly newsletter, Take Action, brings ideas and inspirations right to your inbox.